Replacing a favourite toy
In the unthinkable event that a treasured toy is lost, there is still hope! We specialise in soft toy replacement. At Picture to Puppet, recreating a lost toy is a common request and we're happy to help. Just send us a photo of your treasured missing toy you'd like us to remake and some dimensions and we can build a replica of it to your specification.
The Toy Recreation Process
Toys can hold very emotional memories, for adults and children alike. When recreating replica of a lost toy, we take great care to build sympathetic replacements that capture the character of the original toy as well as the key features. We understand how important it is to get your missing toy replica as close as possible to the original. We try to involve customers at every stage in the process to get as much input from you as possible.
2. DESIGN PHASE
Initially we ask for a £50 design fee. This covers a scale drawing of your toy and up to 6 fabric samples.
3. FABRIC SOURCING
We spend a lot of time sourcing fabrics to find the most suitable fabric for your missing toy. We order in samples from all over the world and can also dye fabrics here in the workshop to get the closest possible match. Where required, we can also age and distress fabrics with sandpaper, wire brushes and high spin washes. If your toy is make from a printed fabric that is no longer available, we can also recreate the custom printed fabric, which typically costs £120. Adding printed or embroidered text is also an option. If further fabric samples are required after the initial 6, these are charged at cost price. 
4. Matching Features
Let us know if there are any small details that are important to your toy, such as uneven eyes, worn areas or patches. We can usually source plastic or glass features to match; if not we can also cast them ourselves in the workshop.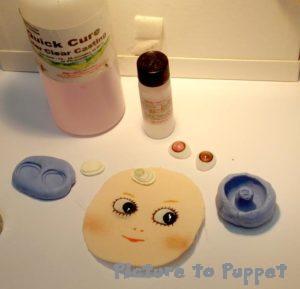 5. MAKING THE TOY
If you're happy with the drawings and swatches, we invoice you for the remainder of the price. We make the toy and send it to you.
6. FINAL EDITS
If you require any changes after seeing the toy, we can either make amendments to it, which are charged at £45 per hour, or make a second iteration of the toy, which would cost 75% of the original price.
Remaking A Lost Toy – Examples
Here are some examples of our previous soft toy replacement commissions.
Damaged Toys
If your toy's damaged but you still have it, check out our Toy Hospital service – toys are often more reparable than you might think!
The number of requests we have for remaking a lost teddy shows that no matter how old you are, there are few things more valuable than your favourite teddy.