Teddy Repairs by Leith Toy Hospital
Do you or your child have a favourite cuddly toy who's just been loved and cuddled that bit too much? A teddy full of holes, a bear with missing limbs, or someone who's just lost their smile? 
Don't panic! Here at Leith Toy Hospital I've seen worse! I can give them a careful operation (under anaesthetic of course), and make sure that they come back to you healthy and strong enough to withstand many more years of love and hugs. We carry out teddy repairs every day ranging from much loved childrens' toys to antique bear restoration.
I make toys all day every day, so have a very thorough understanding of how they are made. Favourite cuddlies are the centre of a child's world, and it can very upsetting when they become damaged. I know how important it is that retain the same character and expression, so will make absolutely sure that this is preserved.
Get in touch if you have a friend who needs some TLC!
Or email mari@picturetopuppet.co.uk
Or visit 64 Constitution Street, Leith, Edinburgh
Teddy repairs we can do:
Surface clean – £10-30
Opening and closing per compartment – £5
Seam repair/ reinforcement – from £4.50
Joint Replacement – £15 per joint
Replacing paw pads  -£7.50 per pad
Limb replacement (matching fabrics as closely as possible) – From £25
Patching/ Darning – from £8
Re-embroidering nose & mouth – £12
Replacing safety eyes/ noses £5 per feature
Restuffing – from £5
Making new clothes – From £25
"New skin!" Well, snakes do it, so why not teddies? I can make a new skin in a very similar fabric to exactly the same size and shape as your teddy, and put the original teddy inside the new skin (including the soul, of course.) It's the same teddy, but with a complete makeover. – from £65
Or in the most drastic of cases where the teddy has been lost, we can recreate it from a photo. From £130
Toy Hospital Case Studies
New nose and outfit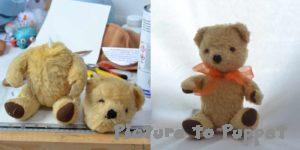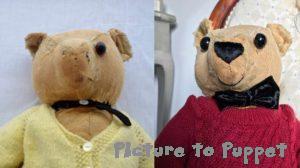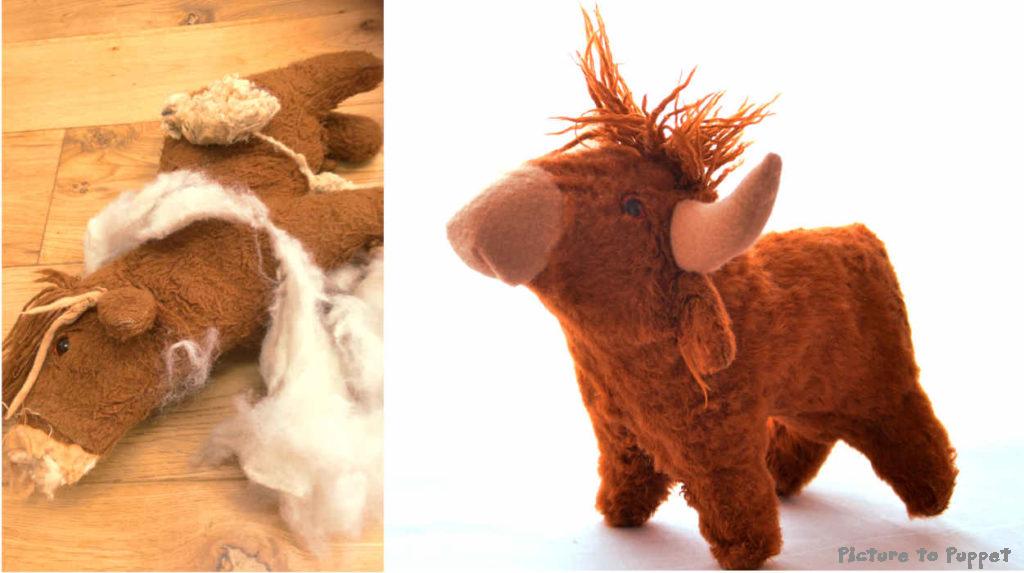 New Nose, horns, repairing and restuffing
Darning ALOT of holes and a new protective onesie!
I'll chat with you before I do anything to make sure you're getting a bear repair that you're happy with. I'll even send your toy back with a doctor's note stating how long the teddy will need off work to recover fully and what exercises they need to do.
Where to find Leith Toy Hospital
If you have a cuddly toy who needs some TLC, you can either:
or
 Email a picture of you damaged teddy to mari@picturetopuppet.co.uk and I will suggest what needs doing and how much it will cost. Then you can post me the teddy and I will send it back special delivery.
Visit my gallery for some examples of my previous work.
N.B. I only do cuddly toys and puppets, I'm afraid I don't do plastic or wooden toys.