Custom personalised Puppets and Toys by Picture to Puppet
Welcome to Picture to Puppet, a small company making custom personalised puppets and custom soft toys to order in Edinburgh. Our puppet makers make beautifully handcrafted personalised puppets and soft toys to order, by hand, in our Edinburgh studio. 
Things Picture to Puppet Make
Here are just a few of the things we can make:
From Picture To Puppet!
Just send us a picture or a description, and within weeks our puppet makers can transform your idea into something as beautiful or scary as you want. There are no limits— if you can dream it, we can make it. At Picture to Puppet, we offer a highly personal bespoke service, and will talk to you in detail about your requirements before we start. 
Our clients range from TV companies to children's counsellors and from ventriloquists to families.
We have an in-depth knowledge of the art of puppetry, having worked with a plethora of performers, and developed puppet designs for a huge range of contexts, from television sets to intimate in-person performances.
We are experienced in creating unique bespoke puppets covering a huge range of materials, styles and techniques. The expertise of our team spans from textiles and foam to latex, plastics and 3D printing. We also specialise in custom printed fabrics, both hand and digital. The scale of our work ranges from tiny finger puppets to huge wearable mascot costumes.
We have also worked on a huge range of mechanism styles for every kind of performer, from simple moving mouth mechanisms to marionettes, lever operated blink mechanisms, animatronics and spring loaded mechanisms.
Picture to Puppet's products are built to last, and guaranteed for 5 years, so if they get damaged through normal wear and tear, we will repair them free of charge.
Picture to Puppet's Services
Here are some of our most popular puppet and toy making services. If you're looking for something that's not listed here, just ask! The weird ones are our favourite.
Likeness Puppets
Send a photo of person – yourself, a loved one, your favourite celebrity – and our puppet makers can make them into a custom puppet. Our famous lookalike puppets are frequently used on TV and on stage, by comedians, ventriloquists and celebrities. Some companies get all their board members made up as puppets, influencers use puppets of themselves for vidoes, people buy puppets for their family members as gifts. Our portrait puppets are available as full or half body hand puppets or glove puppets.You can also add character with moving eyebrows or a blink mechanism!
Custom Latex Puppets
A huge level of detail can be achieved with a latex puppet, which are first sculpted in clay and then cast. Our custom latex puppets can be made as hand puppets or glove puppets, in pretty much any design.
Custom Animal Puppets
Send us a photo
of your pet, your favourite animal or a picture you've drawn. Our custom animal puppets are popular with illustrators, the pet industry and animal lovers.  
Custom Character Puppets by Picture to Puppet
Get your character made up as a puppet! TV companies, publishers, illustrators often use our puppet making service to bring their characters to life.
Bring your core values characters to life with puppetry! Get the kids engaged with core values mascots, rights respecting mascots and eco mascots. We also offer puppet making workshops in schools.
Send us a photo of your pet and we can make a beautiful soft toy likeness of him/her. Our pet soft toys are ever popular with the pet industry, pet owners and families whose pets have passed on.
We can make a custom soft toy of your illustration, book character, your company's logo, your charity mascot… or pretty much anything you like.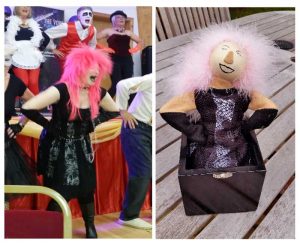 We can even make your Mum come out of a jack in the box! (Or your favourite TV personality, your boss, or pretty much anyone else). You can choose the colour of the box, what they're wearing and what they look like.
Leith Toy Hospital has grown out of Picture to Puppet and taken on its own identity. At Leith Toy Hospital, we repair and restore all kinds of modern and antique toys. We have a full time teddy surgeon, who repairs the soft toys,  and a doll specialist who repairs plastic, porcelein and composition dolls. We also have an electrical technician, who fixes mechanical and electrical toys.